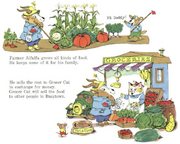 Farmer Alfalfa is a farmer who is a goat, who owns a sizable farm somewhere in Busytown, he grows a large variety of vegtables and other foods along with owning a large amount of livestock. In additon he also owns and takes care of a corn field which Buffalo Bill frequently runs into by accident, he owns a tractor and several pick-up trucks ranging in size and colors. He appears in
Richard Scarry's Best Counting Video Ever
as Farmer Fred,
Richard Scarry's Best Busy People Video Ever
as Farmer Gary and
Richard Scarry's Best Learning Songs Video Ever
.
Ad blocker interference detected!
Wikia is a free-to-use site that makes money from advertising. We have a modified experience for viewers using ad blockers

Wikia is not accessible if you've made further modifications. Remove the custom ad blocker rule(s) and the page will load as expected.