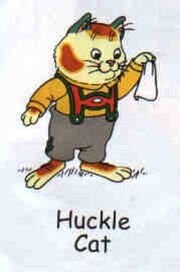 Huckle Cat
is one of the main residents of Busytown and the main protagonist in many of the stories either being the center of the story or being a background character. He is 7 years old. He wears a yellow shirt with colorful lederhosen on which is a type of Swiss/German/Austrian clothing. He is a cat and lives with a Dad, Mom and a younger sister. Characters added in April 1968. He was first appeared in
Richard Scarry's Chuckle with Huckle
. In Busytown Mysteries, he is 8 years old.
Voice Actors:
Kyle Stanley in Richard Scarry's Best Videos Ever
Sonja Ball in The Busy World of Richard Scarry
Joanne Vannicola in Busytown Mysteries
in the upcoming stage musical, he will be played by Kurtis Papadinis.
Ad blocker interference detected!
Wikia is a free-to-use site that makes money from advertising. We have a modified experience for viewers using ad blockers

Wikia is not accessible if you've made further modifications. Remove the custom ad blocker rule(s) and the page will load as expected.