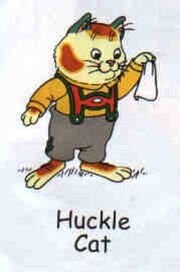 Huckle Cat
is one of the main residents of Busytown and the main protagonist in many of the stories either being the center of the story or being a background character. He is 7 years old. He wears a yellow shirt with colorful lederhosen on which is a type of Swiss/German/Austrian clothing. He is a young kitten and lives with
Dad
,
Mom
,
a younger sister
and
a worm
. Characters added in April 1968. He was first appeared in
Richard Scarry's What Do People Do All Day
. In Busytown Mysteries, he is 8 years old. He is voiced by Kyle Stanley, Jonathan Taylor Thomas, Sonja Ball and Joanne Vannicola.
Voice Actors:
In the upcoming stage musical, he was played by Kurtis Papadinis.
Ad blocker interference detected!
Wikia is a free-to-use site that makes money from advertising. We have a modified experience for viewers using ad blockers

Wikia is not accessible if you've made further modifications. Remove the custom ad blocker rule(s) and the page will load as expected.