Rhonda Raccoon



Nickname

Rhonda Raccoon

Gender

Female

Species

Raccoon

First appearance

Last appearance

Debut

August 17, 1993 - August 23, 1994

Voiced by

Latekea Vinson (1993-1994)
Agnes Herrmann (1993)
Lacey Chabert (1994)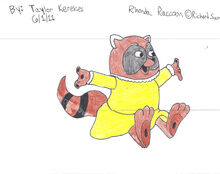 Rhonda Raccoon is a female raccoon. She wears a yellow or light blue dress. She is voiced by Lateaka Vinson, Agnes Herrmann and Lacey Chabert.
BEST VIDEOS EVER APPEARANCES
Richard Scarry's Best Busy People Video Ever - She wants to be a delivery truck driver when she grows up.
Richard Scarry's Best Learning Songs Video Ever - She sings Look, Look, Carefully about which one is different from the others.
Richard Scarry's Best Silly Stories and Songs Video Ever - In the second story, Mr. Fixit Fixes It, she laughs after she hears Freddie's trike horn going cuckoo.
Richard Scarry's Best Sing-Along Mother Goose Video Ever - She appears as Little Bo Peep in two songs, Little Bo Peep and Little Boy Blue. She has lost her sheep and doesn't know where to find them. Emperor Huckle (who is looking for Lowly Worm) and she bump into each other. He tells her to find her sheep. At last, she found the sheep.