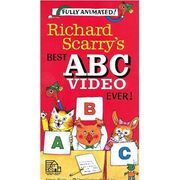 Richard Scarry's Best ABC Video Ever is the first video from the Richard Scarry's Best Videos Ever series. It is published on March 15, 1989.
Huckle and his classmates presented the alphabet from A to Z at school.
Introduction
Alphabet Song
Airplane
Bread
Crayon
Drum
Egg
Fire Engine
Guitar
House
Ice Cream
Jar
Kite
Ladder
Motorcycle
Nurse
Octopus
Pie
Quilt
Rabbit
Soup
Train
Uniform
Violin
Watermelon
Xylophone
Yo-yo
Zipper
Alphabet Song (reprise) - Huckle sings the song as Lowly forms all the letters before fast asleep.
Characters Featured
Edit
The Narrator
Kathy Cat
Suzy Tiger
Xavier Mouse
Zara Rabbit
Stunt Coordationer Mark Mattramv
In the opening segment, the narrator sounds like Tom Hanks, which he voices Woody from the Disney and Pixar films, Toy Story and Toy Story 2, and also portays Scott Turner in Turner and Hooch, and Walt Disney in Saving Mr. Banks.
When Libby Leopard jumps over Kathy's turn, Kathy looked at Libby and she says "I'm next! I'm next! I got the letter L!" and Miss Honey says, "I'm sorry, Libby, but L doesn't come after J." Miss Honey then told the viewers that K comes after J.
In the I segment, Bananas Gorilla wants bananas Ice Cream, which would mean he likes Ice Cream too.
In the B segment, Bananas Gorilla doesn't eat blueberries. Able Baker Charlie tells him to come back to the bakery tomorrow.
Before the letter Q scene, Quincy Cat was sleeping in class and was forced to "wake up".
After the N segment, Janitor Joe floods the classroom, but he Only speaks once in the video.
In the M segment, Bananas Gorilla steals all of the bananas from the mail truck and rides on Sergeant Murphy's motorcycle.
Huckle has the letter H which starts in the name.
In the S segment, the soup tastes disgusting.
In the Z segment, Sergeant Murphy is presumed to be the antagonist because he stole a Bananas Gorilla because it was revealed by Huckle Cat that the bananas weren't stolen, because They belonged to Bananas Gorilla and were his all along. Sergeant Murphy also became the main Antagonist in Noah Byrd's Walt Disney World Movie, where it's revealed that he steals everything from any character, and has even kidnapped a princess.
In the O segment, the octopus is holding an orange, an oilcan, an olive, an onion, an oyster, an orchid (a type of flower), an oar and an oboe.
This is still the very same Bananas Gorilla from Richard Scarry's Best Counting Video Ever, Richard Scarry's Best Learning Songs Video Ever, Richard Scarry's Best Busy People Video Ever and Richard Scarry's Best Silly Stories and Songs Video Ever.
This episode marks the debut for Able Baker Charlie, the second appearance would later then be Richard Scarry's Best Busy People Video Ever.
When Mary Mouse says "M is the next letter", her mouth wasn't seen, but her whiskers were moving up and down.
Ad blocker interference detected!
Wikia is a free-to-use site that makes money from advertising. We have a modified experience for viewers using ad blockers

Wikia is not accessible if you've made further modifications. Remove the custom ad blocker rule(s) and the page will load as expected.