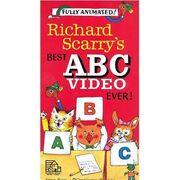 Richard Scarry's Best ABC Video Ever is the first video from the Richard Scarry's Best Videos Ever series. It was released on March 15, 1989 on VHS and rereleased on October 16, 2001 on DVD and on early-late 2010s on YouTube and Dailymotion.
Storyline
Edit
Join Huckle and Lowly Worm as they go to school to learn their ABC's with the children!
The episode begins with Huckle Cat and his friends riding the bus to Busytown School. They say good morning to their teacher Miss Honey, who declares that today in school is Alphabet Day. Her students, totaling 26, whose names begins with each letter of the alphabet, start by singing the alphabet song. The class goes through every letter of the alphabet and the word that start with that letter.
When the bell rings, everyone goes home. Huckle sings the alphabet song again as Lowly shapes the letters. Lowly goes to bed as the video ends. The entire Busytown is seen on birds-eye view and an airplane pulls the "The End" banner.
Airplane
Bread
Crayon
Drum
Egg
Fire Engine
Guitar
House
Ice Cream
Jar
Kite
Ladder
Motorcycle
Nurse
Octopus
Pie
Quilt
Rabbit
Soup
Train
Uniform
Violin
Watermelon
Xylophone
Yo-yo
Zipper
Alphabet Song (Reprise) - Huckle sings the song as Lowly forms all the letters before he goes to bed.
Characters Featured
Edit
(*Unmamed.)
Trivia/Goofs
Edit
Main article: IMDb