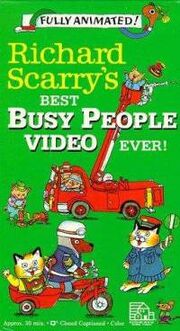 Richard Scarry's Best Busy People Video Ever
is the third video of the
Richard Scarry's Best Videos Ever
series. It is published on April 20, 1993.
Huckle and his friends imagine their occupations. Freddy wants to be a baker, Rhonda wants to be a truck driver, Ralph wants to be a fire fighter, Gary wants to be a farmer, Huckle wants to be a grocer cat, Lily wants to be a builder, Larry wants to be a doctor, Olive wants to a mail-carrier, Sally wants to be a travel agent, Hilda wants to be a pilot and Bruno wants to be a captain.
Baker
Truck Driver
Fire Fighter
Farmer
Grocer
Builder
Doctor
Mail Carrier
Travel Agent
Pilot
Captain
Characters Featured
Edit
The young version of Huckle cat only had 2 lines in this episode.
This is the second time the Narrator narrates the whole episode. The first time was in "Richard Scarry's Best ABC Video Ever".
Stock footage clips from the Beginning of the video would later be reused for a music video premiere of Noah Byrd's rendition of the song, "Heigh Ho" from Walt Disney's 1937 classic animated film, Snow White and the Seven Dwarfs.
The orchestral and shortened version of the "Thomas and Friends" song, "Really Useful Engine" from the movie, Thomas and the Magic Railroad, is played during the Credits on the Future DVD releases, replacing the instrumental score.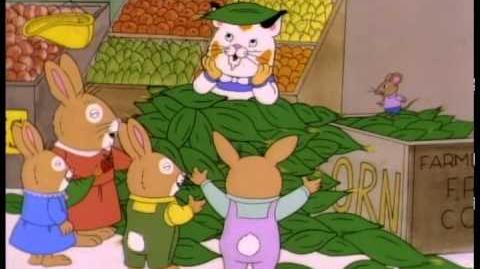 Ad blocker interference detected!
Wikia is a free-to-use site that makes money from advertising. We have a modified experience for viewers using ad blockers

Wikia is not accessible if you've made further modifications. Remove the custom ad blocker rule(s) and the page will load as expected.