Richard Scarry's Best Counting Video Ever
Talk

0
Share
Richard Scarry's Best Counting Video Ever is the second video of the Richard Scarry's Best Videos Ever series. It is published on August 17, 1989.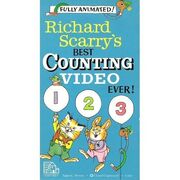 One morning, Lily Bunny counted one of herself, two hands, feet and ears. Outside her home, Lily counted three friends on three tricycles with three horns. On the farm, Lily counted four cows and moos, five funny frogs and big splashes, six crows and scarecrows with hats (Lily saw an extra hat chased after Mr. Frumble), seven airplanes and eight watermelons. At Farmer Fox's farm stand, Lily counted nine banana cream pies and ten baby chicks hatching from eggs. After lunch, Lily and Huckle continued counting 11 pigs going into the Busy Burger Resturant where there's 12 pancakes, 13 scouts crossing the street, 14 balloons that Lowly bought at the zoo, 15 apples at the grocery store, 16 children sliding down a slide, 17 books at the Busytown Library, 18 roses that Lowly gave to Hilda who sneezed away the flowers leaving just the 18 stems and 19 big bass drums marching in a parade. When Lily came back home for dinner, she counted 20 carrots.
Characters Featured
Edit
Ad blocker interference detected!
Wikia is a free-to-use site that makes money from advertising. We have a modified experience for viewers using ad blockers

Wikia is not accessible if you've made further modifications. Remove the custom ad blocker rule(s) and the page will load as expected.