Sally is Huckle's younger sibling. She is 5 years old. In her early appearences she was known as Little Sister.
Sally is a bubbly and patient kitten. She loves to learn, help others, baking, arts and crafts. Although she is a secondary character, her happy disposition along with other characters makes the show fun, easy to watch for all ages, and educational.
In the Busy World of Richard Scarry she was voiced by Tara Meyer. In Richard Scarry's Best Busy People Video Ever, she wants to become a travel agent like her mom when she grows up. She was voiced by Haley White.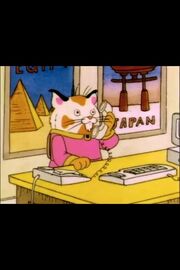 Ad blocker interference detected!
Wikia is a free-to-use site that makes money from advertising. We have a modified experience for viewers using ad blockers

Wikia is not accessible if you've made further modifications. Remove the custom ad blocker rule(s) and the page will load as expected.