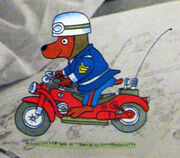 Sergeant Murphy is a cocker spaniel police motorcylist who is often present the street and road scenes. He is married and has a little girl named Bridget. He is dedicated to his job and his passion for motorcycles is shown in the fact that he wears his crash helmet in bed. His name is reflection on the stereotypical Irish-American policeman. Characters added in April 1969.
He was first appeared in A Day at the Police Station.
In Richard Scarry's Best Videos Ever, he is voiced by Jeff Bennett.
In The Busy World of Richard Scarry, he is voiced by Len Carlson.
He also appeared in Busytown Mysteries.