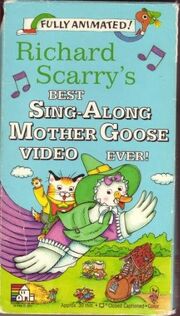 Richard Scarry's Best Sing-Along Mother Goose Video Ever is the sixth video of the Richard Scarry's Best Videos Ever series. It is published on July 20, 1994.
Little Jack Horner too
Star Light, Star Bright
London Bridge
Mary Had a Little Lamb
Old Mother Hubbard
Little Bo Peep
Hey Diddle Diddle
Little Miss Muffet
Hickory Dickory Dock
Three Little Kittens
Little Boy Blue
There Was an Old Woman Who Lived In a Shoe
Wee Willie Winkie
Old King Cole
Sing a Song of Sixpence
Higgledy Piggledy
Sleep, Baby, Sleep
Characters Featured
Edit
Ursula the Pig
Lily Bunny
Mother Goose
Rhonda Raccoon ( Little Bo Peep)
Little Boy Blue
mom and dad
2 pigs
Fred
Ginger
Isabella
Fernidad
Old King Cole
It's unknown that either it's series finale of the show, or it's the last Richard Scarry's Best Videos ever episode, to be released on VHS.
On the DVD and some VHS releases of the video, an animated logo For BBC2 idents Introduced in 1993, appears at the film's beginning. In this part, a black "2" with a piano falls from the sky accompanied by piano music and crashes to the floor before displaying the 2 in its place and the Animated letter being formed above on the top left hand side.
Sergeant Murphy, Bananas Gorilla, the pig firefighters, Mr. Frumble, Miss Honey, and Mr. Fixit are absent in the episode.
This marks the final episode where Lowly Worm doesn't have a speaking role in the show.
This also the episode of the series, where the plot does not takes place in Busytown in most of the episode.
This also the only episode of the series, where the plot takes place at night.
This is same bedtime from Blue's Big Pajama Party & Bedtime Business & Goodnight Blue & An Extremely Goofy Movie
Ad blocker interference detected!
Wikia is a free-to-use site that makes money from advertising. We have a modified experience for viewers using ad blockers

Wikia is not accessible if you've made further modifications. Remove the custom ad blocker rule(s) and the page will load as expected.